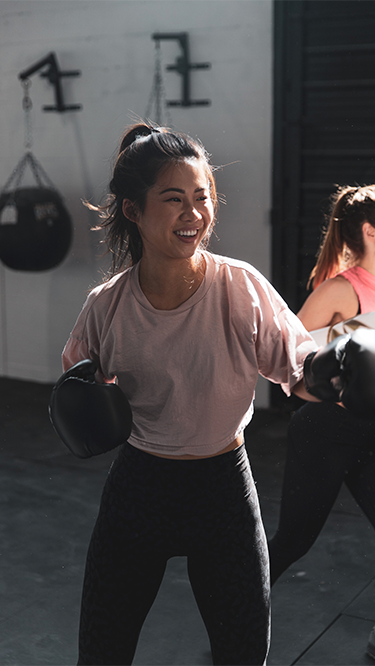 5 Ways a Fitness Routine Can Improve Your Mental Health
If you struggle with your mental health, then you've likely heard that a fitness routine can improve your mental health. Often, this is one of the first recommendations you receive when you have anxiety, depression, or a different mental health issue. Of course, when you're struggling with your mental health one of the last things you want to do is get off the couch or out of bed to lace up your sneakers and take a walk. 
But, maybe you should heed the advice; exercise has proven benefits for both improving mental health and maintaining good mental health. In fact, establishing a fitness routine has even more benefits because of the way our brains are wired for patterns. We love routines and rituals because they help familiarize our days. 
But how does a fitness routine and exercise improve your mental health? ZOZOFIT is here to examine how starting or maintaining a fitness routine can improve your emotional and psychological well-being and even help you as you cope with different challenges that may come along as well.
Establishes routines & catalyzes other parts of your life 
The key word in the phrase "fitness routine" is "routine." Humans crave routines. We love patterns and, for as much as some of us don't want to admit, predictability. Routines and patterns help us plan our days and live our lives both more efficiently and effectively. 
When you are struggling with your mental health, establishing a fitness routine can feel like a massive undertaking, but it can be simple — and having the routine will help you have something to work toward. Start by planning, and don't overdo it. If you're not exercising at all, maybe try walking one day a week. Put it in your calendar. 
Let your Monday lunch walk become part of your routine. When it's part of your natural rhythm, it will be easier to make the time to go on your walk. 
Additionally, having a fitness routine can catalyze other parts of your life. Often people struggling with mental health have trouble completing "basic" tasks like showering, cleaning, cooking, and laundry. These to-do items feel insurmountable when dealing with anxiety and depression. However, by developing a fitness routine, you will also develop routine in other parts of your life — you may get out of your house, shower, and do your laundry more often. 
Increases confidence and goal-setting
Low self-esteem often goes hand-in-hand with mental health struggles. When you establish a fitness routine, you set goals for yourself and can find accomplishment in the small things like a walk around the neighborhood. 
Any type of fitness is a feat, whether it's a walk around the neighborhood or a sub 3-hour marathon. Your fitness routine will see you accomplishing something everyday or every week — and you should be proud of that. Let this increase your confidence, which will in turn boost your self-esteem. 
Additionally, creating a fitness routine also helps with goal setting. It's important to set goals in both our professional and personal lives because it gives us something to work toward and creates a sense of purpose. Just scheduling fitness sessions is a form of goal setting. Completing a scheduled workout is an achievement in itself! 
If you are more extrinsically motivated, consider signing up for a race or other athletic event. Sometimes having a "big day" to work toward makes it easier to stick with a routine. Other options include setting fitness goals with fitness tracking apps and wearable tech, like ZOZOFIT. 
Exercise releases endorphins and serotonin
Exercising releases endorphins and serotonin, brain chemicals that reduce stress, improve your well-being, and relieve pain in the body. 
Your fitness routine is a way for you to naturally release these chemicals into your body which will help you feel better. This is a huge benefit of exercising, especially when struggling with mental health. Even if fitness sounds like the worst thing you could possibly do, there are endorphins right there waiting for you! 
Even a short walk or light movement, like yoga, can facilitate the release of these chemicals. Choose what kind of activity is right for you. 
Improves cognitive function 
When you are struggling with your mental health, you may feel sluggish or be dealing with brain fog, which encompasses symptoms like forgetfulness, disorganization, or trouble focusing. 
Exercising improves your cognitive function, reducing feelings of sluggishness, fatigue, and brain fog. When you eliminate those symptoms, it's easier to move through your day-to-day life. When creating your fitness routine, think about when to plan your fitness to reap the most benefit for your day. 
Many people like to exercise in the morning because it gets them a head start on the day. If you're struggling with your mental health, a morning workout may be a great reason to get out of bed and get started with the day ahead. However, if you are not ready to make that leap, choose a time of day that works for you. Maybe you want to be gentle with yourself in the morning, but you can commit to exercising at lunch or after work. 
Whatever you decide, improving your cognitive function will help you cut through the funk that mental illness leaves in your life. 
Finding other people to workout with is a great way to encourage you to stick to your fitness routine. Having that additional support can help reduce feelings of isolation as well.
Fosters community & social interaction 
If you struggle with mental health, it's likely that you have felt alone or isolated. Often, even though it's against our best interest, we tend to become closed off when struggling with our mental health, which leads to fewer community or social interactions. 
Establishing a fitness routine can help you establish a supportive community that you can turn to in times of need. Boutique studios and many gyms offer different types of classes where you can exercise alongside your peers. Establishing regular classes into your routine, as well as building relationships with specific instructors or fellow attendees at these classes, can spark joy and happiness in your life. 
Dealing with mental health issues on your own is incredibly difficult. As hard as it might be to establish a fitness routine where you have to leave your house and meet other people, it will help you in the long run.
Track the Progress of Your Fitness Routine 
One of the best ways to know if your fitness routine is working to your benefit is to see your progress over time. When you're able to see how far you've come it's easier to want to keep going with your fitness, and it can even help with your overall mindset as well. Using a fitness tracking app or other piece of fitness technology that can track your progress is the best way to get accurate results, as well as be able to analyze data from your workouts. 
Depending on your fitness routine and goals, there are many different ways to track progress. When you're wearing your ZOZOSUIT, the ZOZOFIT app can provide your body measurements through our 3D body scanning technology. You can use these measurements to see how you've physically changed over time, whether you want to gain muscle or decrease body fat.