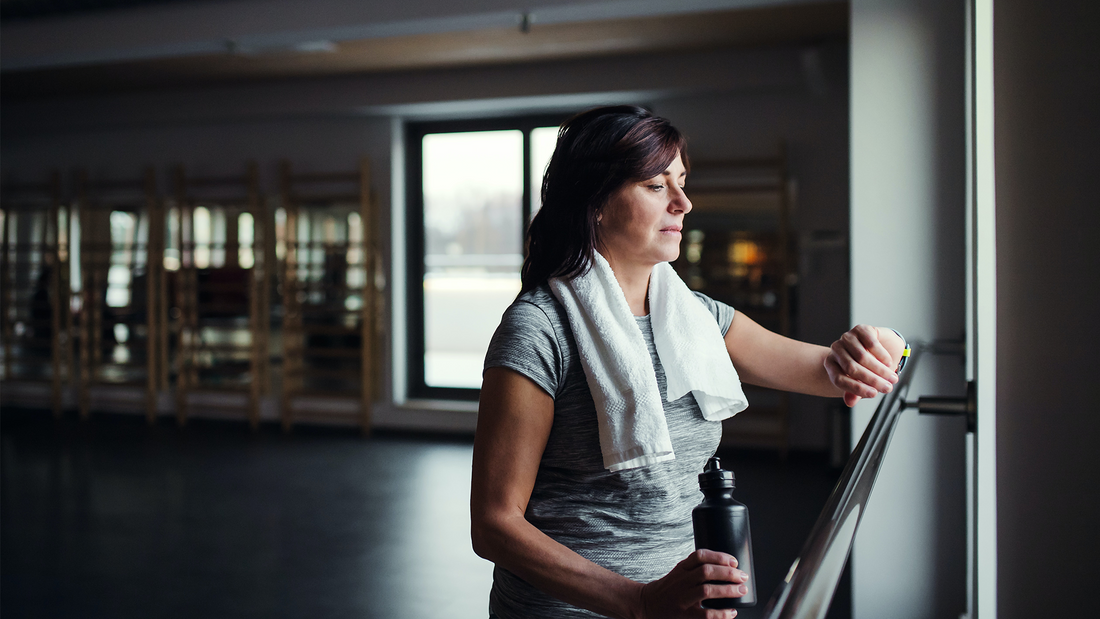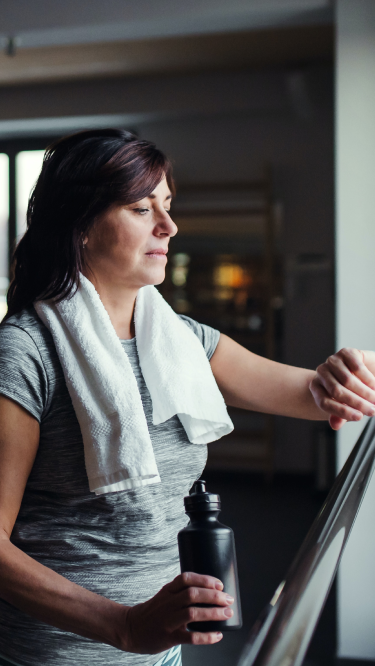 What is a Resting Metabolic Rate & How Can You Improve Yours?
You're not just burning calories in the middle of a workout. You're burning calories and using energy all day long. Our bodies need this energy for all of our day-to-day processes, like walking around our house, brain function, and more. It's important to fuel ourselves effectively to maintain activity, but we also may want to look at our metabolism to see how many calories we are using each day. 
It's not unlikely that you've heard the word metabolism before. You might immediately think of that friend who has a "fast" metabolism and seems to eat whatever they want without seeing any impact, or perhaps, you are on a weight loss journey and are hoping to increase the amount of calories you burn throughout the day to enter a calorie deficit. 
Our metabolism is important, especially to fitness enthusiasts and people looking to lose weight. But what, exactly, is metabolism? 
Understanding Metabolism 
Everyone needs to eat — and what we eat turns into fuel for the body. Metabolism is the process for turning calories into usable energy for the body. We have to be able to do this, because without metabolism we wouldn't have enough energy for our body to keep functioning. We even use energy when we are sleeping! Breathing, blood circulation, and injury repair and healing all use energy, even if it doesn't feel like. 
Each person's metabolism is unique to them, and often inherited from their parents. Some folks may have a slow metabolism, some have a fast metabolism, and others are in the middle. Whatever the case, your metabolism is your metabolism. It's important to keep this in mind when considering how metabolism impacts your fitness or weight loss. 
Resting Metabolic Rate: Why It's Important 
Our metabolism determines our metabolic rate. Your resting metabolic rate (RMR) helps you understand how your body operates and what it needs to perform those day-to-day activities like eating and short walks, among others. This rate gives you an idea of how many calories you burn (and need) on a given day. 
Everyone also has a basal metabolic rate (BMR). This rate determines how much energy you need for the body to perform its necessary functions like breathing, digestion, and circulating blood. We burn a large percentage of our daily calories just being alive! 
Measuring Resting Metabolic Rate 
If you don't know your RMR, do not fret! There are many ways to determine your RMR with accuracy. There are many calculators online that calculate RMR, making it very easy to do. All you need to know is your height and weight. Some calculators ask for an estimate of your weekly activity — which, for fitness enthusiasts, should not be difficult to determine! 
Each of the calculators computes how many calories you use per day. 
The Omni Calculator calculates RMR with just gender, age, height, and weight. If you want to include the impact of physical activity, the calculator from VeryWell Fit gives you an option to say if you participate in no activity/are sedentary, light activity, moderate activity, or very active. It will use this determination to adjust your calories burnt per day. 
While the calculators are mostly accurate, they are just estimates. If you want to get an exact, accurate number, consider pursuing resting or basal metabolic rate testing. 
Improving Resting Metabolic Rate
Now that you understand what your RMR is and have calculated it, it's time to put that number to use. Improving your metabolic rate has many benefits, especially if you are looking to lose weight. By burning my calories, it is easier to achieve a calorie deficit and can jumpstart your weight loss. 
The main factors that impact your RMR are age, body composition (height and weight), gender, diet, physical activity, and your natural metabolism. Other things like medication and hormone imbalances also impact your RMR, but these are often on a more case-by-case basis. 
When you are ready to improve your RMR, consider what your goal is. Are you looking to lose weight? Do you just not want to stress about what you're eating? Having a reason or an aspiration can help you stay motivated to achieve an improved resting metabolic rate. 
There are several ways to improve your resting metabolic rate, but the best way to improve is to incorporate each of these methods into your lifestyle — especially because changes you make to improve your RMR are changes that are good for you overall! 
Eat every meal.

It's important to eat at every meal because that keeps your metabolism working throughout the day. You especially want to make sure you are eating breakfast, as it kick starts your metabolism. 
Take up weight training.

Weight training helps you

build muscle and burn fat

— sounds like a win! This is also a great way to improve RMR because having more muscle means that your body will burn more calories just by going about your daily activities. 
Prioritize sleep.

Sleep impacts all facets of our lives. Sleep is when we heal, store memories, and are able to get rest from the worries and busyness of everyday life. When you sleep well, you also prime your body to function at maximum, making it easier for you to use energy just resting. 
Using Resting Metabolic Rate with ZOZOFIT for Weight Loss
Improving your RMR can have a huge effect on your weight loss journey. By improving your metabolism and eating in a calorie deficit or engaging in more exercise, you will be well on your way to meeting your goals. 
Whatever your goal, it's important to remember to track your goals. Tracking goals makes it much more likely that you will achieve them. 
Using the ZOZOSUIT with the ZOZOFIT app is one of the best ways to chart your progress overtime for weight loss. Where the scale can be inaccurate — because muscle weighs more than fat — ZOZOFIT uses 3D body scanning technology to create a model of your body. With this model you can see your body measurements, as well as body fat percentage. 
A new feature in the ZOZOFIT app allows you to compare different scans, so you can see how improving your RMR helped you progress in real time. Decide on your goal, set reminders, and see your progress — all the while prioritizing what's important: your health and fitness.