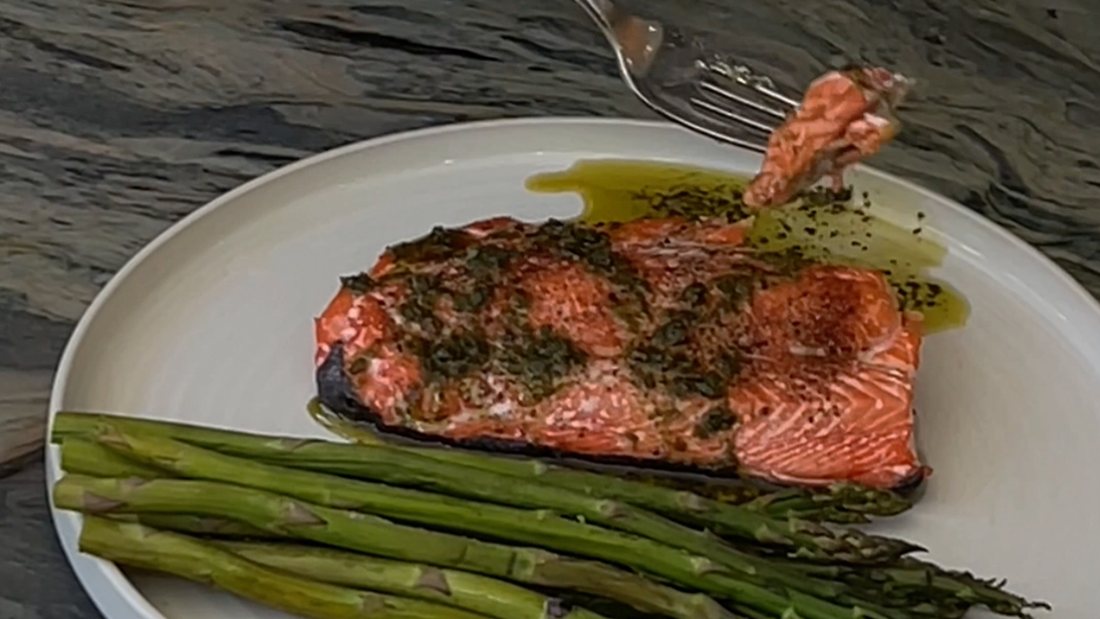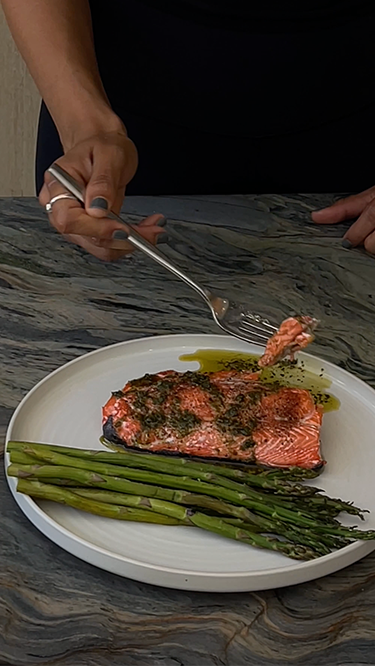 Healthy Eats: Easy 20 Minute Salmon Recipe
Recently, Branding and Content Producer Maxine Goynes shared with ZOZOFIT her amazingly tasty and healthy recipe for easy 20 minute salmon. We all lead busy lives, but that doesn't mean you need to sacrifice staying healthy because you're short on time.
According to Goynes, she loves this dish because of how much it benefits her from both a hormonal and a hydration standpoint. "I have really been working on my hormonal health and this meal is robust with healthy Omega-3 fats, protein and low blood sugar spikes. I also focus on hydration, which is something that we get from the cucumbers. Plus, arugula also has folate and vitamins K and B."
Check out Maxine's salmon recipe below and try it for yourself the next time you are looking to enjoy a well-balanced meal but you don't have hours to spend in the kitchen.
Ingredients:
1 Pound of salmon
2 Teaspoons of avocado oil 
1/2 Tablespoon smoked paprika
1/2 Tablespoon thyme
1 Tablespoon chile lime seasoning
1 Persian cucumber
1 Avocado
Sauce: 
4 Tablespoons mayonnaise
1 Juicy lime, squeezed
2 Tablespoons Gojuchang sauce (or Sriracha)
Salt as desired
Recommended Sides for Your Salmon:
Arugula
Cucumber
Nour Dressing
Maxine Says:
This is one of the easiest, tastiest, and most foolproof ways to make salmon. And I promise, you'll fall in love with this 3 ingredient sauce, too. You can even make a big batch of the sauce and use it for practically anything you want throughout the week. It completely elevates any protein (salmon, steak, shrimp, chicken), and can also be a great salad dressing.
Here is how I made my salmon:
1. Start with one pound of salmon. Coat your salmon with the two teaspoons of avocado oil and then rub it into the surface of the salmon. Next, add a pinch of salt, 1/2 tablespoon of smoked paprika, 1/2 tablespoon of thyme, and 1 tablespoon of chile lime seasoning (you can always add more if you want!). Pop your prepared salmon into the air fryer at 400°F for 10-12 minutes. You can also bake your salmon in the oven if you prefer for about 15 mins at 400°F (time can vary due to the thickness of your salmon and/or settings foryour oven).
2. Next, it's time to cut up your veggies and prepare your base. For the base, I used a ton of arugula, Persian cucumber, and avocado. You can use anything you like here, like riced cauliflower, quinoa, or rice. You can even add in some fresh herbs or peppers for a kick.
3.While the salmon continues to cook, it's time to make the sauce. First, mix together four tablespoons mayo, the fresh lime juice, two tablespoons Gojuchang sauce (or Sriracha if you prefer), and then add in some salt as desired. Give it a good mix, and adjust your sauce with any additional ingredients that you want. I almost always in add more lime juice to my sauce to make it more citrusy and make it last longer, too.
3. When the salmon is done cooking, place it on top of your vegetable base, and top it off with your dressing.
ENJOY!